In the development and production of protein biologics, charge isomers of the target protein can arise due to post-translational modifications (PTMs) and degradation. Biopharmaceutical groups rely on
capillary isoelectric focusing (CIEF)
and imaged CIEF (iCIEF) to quantify the charge isomers present.
Characterizing biologic charge isomers is useful for many life cycle stages including cell line selection, stability studies, formulation, and processing control but this characterization requires the proteins be separated into individual charge fractions with enough purity for downstream assays.
Further, the direct coupling of iCIEF to a mass spectrometer (MS) for characterization would streamline the characterization process significantly. Whole column image detection (WCID) allows for real time observation of the separation focusing (iCIEF) as well as the subsequent mobilization process to isolate the charge isomer peaks.
Advanced Electrophoresis Solutions Ltd. (AES) has developed the CEInfinite Preparative iCIEF instrument and proprietary WCID separation cartridges for fractionation and on-line coupling of iCIEF to MS.
During pressure mobilization, an electric field keeps the samples in the separation capillary focused. The separation capillary has a larger inner diameter (ID) and the transfer capillary has a smaller ID and this difference greatly minimizes the remixing of separated protein isomers as they travel away from the cartridge.
In 2018, in an article published in Electrophoresis from Aalen University in Germany, the focused peaks of an intact monoclonal antibody (mAb) from a CEInfinite Preparative iCIEF were cut and directly transferred to the electrospray ionization (ESI) source of an MS. However, only with the application of capillary zone electrophoresis (CZE) as a second separation dimension (i.e. iCIEF-CZE-MS) was the spectra quality enough such that accurate masses could be obtained for the main, main acidic, and basic variants of the mAb. For characterization with iCIEF-MS direct coupling, further cartridge development was necessary.
To evaluate the realization of an on-line coupling WCID cartridge that produces a high-quality spectrum, the NISTmAb (humanized IgG1κ monoclonal antibody) was chosen as a representative test molecule.
NISTmAb was focused by CEInfinite Preparative iCIEF instrument and the individual variant peaks were mobilized into the ESI source of a MS from Thermo Fisher Scientific (Figure 1). The complete iCIEF-MS process takes less than half an hour, with about 8 minutes for iCIEF separation and 20 minutes of mobilization and MS analysis.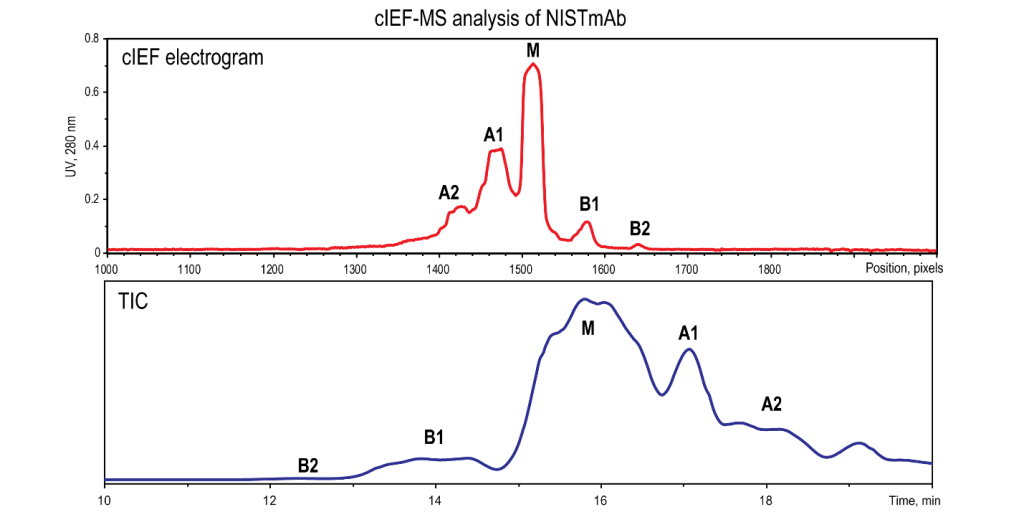 Comparable charge variant patterns were obtained from UV-detection in iCIEF (red) and the coupled MS (blue), and excellent MS spectra were obtained for all variant peaks, which allowed deconvolution of most of the intact NISTmAb charge variants (Figure 2).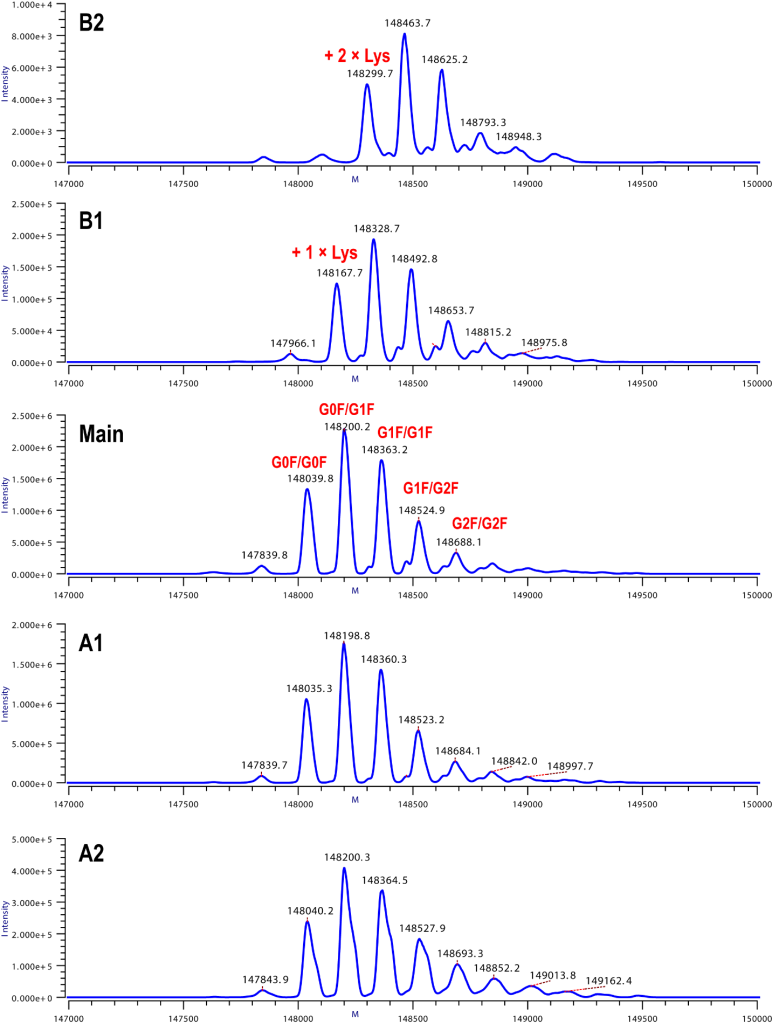 CEInfinite on-line iCIEF-MS coupling has been shown via the congruent charge isomer peaks from both the iCIEF separation of the NISTmAb and input into the MS as well as the MS characterization of the individual peaks. This technique can easily be applied to other mAbs as well as other protein-based biopharmaceuticals.
To hear about the latest iCIEF-MS advancements or to discuss a demonstration with your MS instrument, please contact us.