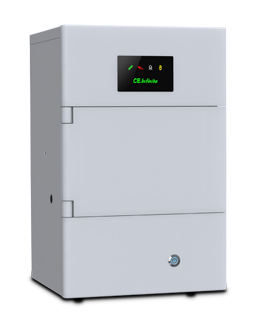 The CEInfinite instrument is a new generation Imaging Detection iCIEF system. It overcomes low analytical throughput and difficult method development associated with the long capillary of traditional single point detection CE. With a high sensitivity CMOS imaging sensor and powerful deep UV LED light source, CEInfinite dramatically increases the scan rate over 100 times compared to any other iCIEF systems. An increased scan rate allows study of fast dynamic processes more accurately, empowering Taylor dispersion measurement of protein hydrodynamic radius, protein interaction studies, and high resolution iCIEF fractionation.
Detection Sensitivity Improvement
Limited by the small inner diameter of the separation capillary, there is always an unmet need of higher absorbance detection sensitivity in CE. Detection sensitivity of an imaging detection iCIEF depends on both the detection wavelength and inner diameter of the separation column. A customized 214 nm imaging detection iCIEF system with higher detection sensitivity (about 5 folds improvement over detection at 280 nm) could be implemented. We have also developed proprietary 200 µm ID separation cartridges, which provide a 100% sensitivity improvement over 100 µm ID ones.
Click here for further information.
WCID iCIEF Separation Resolution Improvement
Good protein separation resolution is always expected for iCIEF, since isoelectric focusing is regarded to be a high resolution protein separation tool.
The separation resolution of a whole column imaging detection iCIEF system relies on both the resolving power of the detection subsystem and resolving power of carrier ampholytes. The highest performance of a detection subsystem has been achieved with CEInfinite by design and selection of a high resolution optical imaging lens and high resolution high performance imaging sensor. Aeslytes, carrier ampholytes specially developed and synthesized for iCIEF, possess qualities such as high resolving power, linear pH gradient, low protein interaction, low UV absorbance and fast focusing. The ampholytes are highly effective and have consistent quality.
Click here for further information.
Breakthrough Technology of Coupling Scanning iCIEF to MS
AES has developed proprietary technology that connects the platform straight to a mass spectrometer (patent pending). Protein iCIEF separation and mobilization are monitored with real time scanning of the whole separation capillary, so that high resolution separation of proteins is ensured during focusing and transportation. Complex proteins are separated first according to their isoelectric point in our uniquely built cartridge and then the separated proteins are forced into the transfer capillary that is connected to the ion source of the mass spectrometer for protein characterization.
Click here for further information.